Home
---
Leier Family Chart
----------
Nowasky Family Chart
---
Leier Family History
----------
Nowasky Family History
---
Children of Charles
& Louise Nowasky
---
Children of Lawrence
& Amelia Leier
----------
Louisa & Ciro
----------
Louisa's Letters
---
Cemeteries
---
Causes of Death
---
Photos
---
Documents
---
Brooklyn Map
---
Email Me
LEIER FAMILY HISTORY
Last update 11/20/2022


Sometime around 1860 in Oberhausen, Germany, Adam Leier married Regina Schneider. They had a son named Longinus Leier, who was born March 12, 1862. Oberhausen is located in the western part of Germany. The town was named for its 1847 railway station which had taken its name from the Castle Oberhausen. The new borough was formed the year Longinus was born, in 1862, following an inflow of people seeking work at the local coal mines and steel mills. In less than 10 years, the population of Oberhausen more than doubled, from 5,590 in 1862 to 12,805 in 1871. By 1900, the population exploded to reach more than 42,000.

To see a map of Germany showing the location of Oberhausen, click here.

Longinus is an ancient Roman name. According to Christian legend, Saint Longinus was the name of the Roman soldier who pierced Jesus' side with a spear, then converted to Christianity and was martyred. The name was also borne by the 3rd-century Greek philosopher Cassius Longinus.

In 1882, Longinus left Germany and immigrated to the United States. He settled in the Gravesend section of Long Island, New York, which would eventually be annexed into the city of Brooklyn.

Also arriving in 1882 was 17-year-old Emilie Nowasky. Emilie was born in Cekzin, Germany on February 18, 1865, the daughter of Charles Nowasky and Louise Pubanz. Emilie arrived in America on November 8, 1882 aboard the S.S. Frisia. Traveling with her were her mother, Louise (46), her sister Bertha (15) and brother Carl (6). I have not been able to locate the immigration record for Emilie's father, Charles, but he must have arrived around the same time. He died in Brooklyn in 1904.

Although Cekzin is currently located in Poland where the name is spelled Cekcyn, in 1882 it was in West Prussia, a part of the German Empire, and the Nowasky's were probably Ethnic Germans living in that area.

Somehow, in less than a year after their arrival, Longinus met Emilie and they were married on September 9, 1883, in St. John's German Evangelical Lutheran Church on Prospect Street, located in what is now the Park Slope section of Brooklyn. Longinus was 21 and Emilie 19.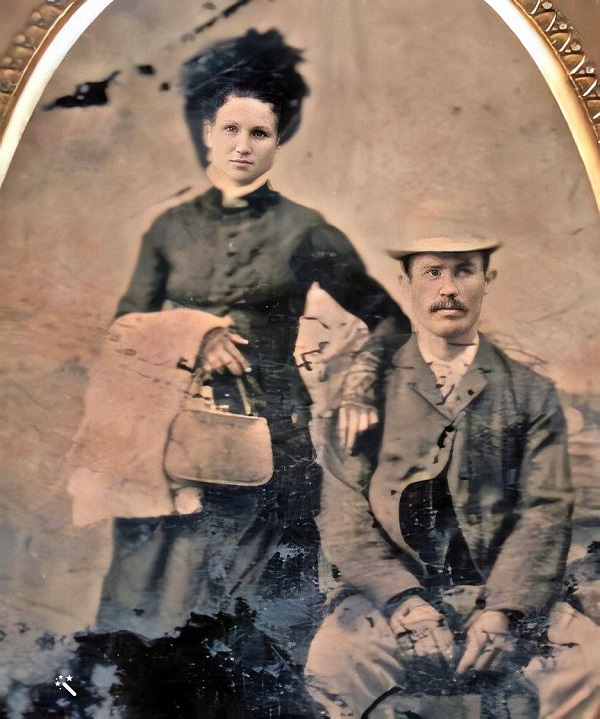 Amelia and Lawrence Leier, circa 1883

Reanimation provided through a remarkable tool on MyHeritage.com




Longinus soon changed his name to Lawrence, and Emilie changed hers to Amelia. On September 2, 1884, their first child, Louisa, was born. They were now living in the Greenfield/Parkville section of Gravesend, Long Island. The area would eventually become a part of Brooklyn in 1898. Between 1884 and 1897, they had a total of 12 children, but only 7 were still alive by 1900. They were Louisa (1884), William (1886), Amelia (1889), Bertha (1890), Charles (1892), Minnie (1895), and Albert (1897).

In 1892, Lawrence and Amelia were living in a small home located at 344 Webster Avenue, still in the Greenfield/Parkville section. At this time, they had 8-year-old Louisa, 6-year-old William, 4-year-old Amelia, and 2-year-old Bertha. Baby Emma had died the year before from Cholera, and Amelia was pregnant again, with their son, Charles. If living conditions seemed cramped, they were certainly worsened by the fact that they were sharing their small apartment with Amelia's parents, Charles and Louisa Nowasky, and Amelia's 15-year-old brother, Jacob.

On December 26, 1896, the Sunday School of St. Paul's Protestant Episcopal church of Parkville held their annual Christmas festival. Among the members giving recitations were 6-year-old Bertha who recited "Seeing Santa Claus", 7-year-old Amelia reciting "A Million", and 12-year-old Louisa with "Christmas Bells."

Further information on the children can be found by clicking "Children of Lawrence & Amelia Leier" in the panel on the left.

Earlier records list Lawrence as a farmer. He was later listed simply as a laborer. He obtained his citizenship on March 26, 1894. On June 3, 1899, he was diagnosed with stomach cancer and was sent to Kings County Hospital for treatment. He died there three weeks later, on June 24, 1899, at the age of 37. He is buried in an unmarked grave in The Evergreens Cemetery in Brooklyn.

After Lawrence's premature death, Amelia struggled to support herself and her 7 children by taking in and doing the laundry of other people in the neighborhood. In 1900 they were all living at 379 Washington Avenue in the Parkville section of the town of Flatbush in the city of Brooklyn. Years later, Washington Avenue was renamed Parkville Avenue. This was only a few blocks from the Webster Avenue tenement. By 1901, they had moved a few blocks east to a newly-built 3-story house at 941 Newkirk Avenue.

My father described Amelia as a hardworking, thin woman, about five feet seven inches tall, and spoke English with no accent. He was told by older family members that Lawrence mistreated Amelia and that he was "no good." Amelia had a chicken coop in the backyard of the home in Brooklyn, plus a parrot. The boys (Charlie, Al and Bill) taught the parrot to curse in German and encouraged it to attack the chickens.

In July of 1901, as reported in the Brooklyn Eagle, Amelia and her 15-year-old son William, along with her brother Charles' family, were dragged into court in Flatbush to answer a charge of disorderly conduct filed by 13 of their neighbors on Newkirk Avenue, for "assaults made both with violent force and in profane and obscene language."

According to 13-year-old Perry Wheeler (who appeared in court with a bandaged head and black eye), he was riding his bicycle by the defendants' houses when he was "knocked down, kicked, pounded with a stick and frightfully abused by word of mouth." In other testimony, he declared that William had knocked him off his bicycle and beat him, that Charles Nowasky choked him, and Amelia beat him with a two-foot long club.

In defense, Amelia's brother, Charles Nowasky, stated that the Wheeler boy "had deliberately ridden his bicycle over one of the infant Nowaskys", probably one of his sons, 2-year-old Frederick or 3½-yr-old Charles. Amelia corroborated her brother's testimony. I have been unable to find out how this all ended.

To see the actual article from the newspaper, click here.

Amelia was living with her son William at 941 Newkirk Avenue when she accidentally died from inhaling illuminating gas from the outlet wall fixture in her bedroom on June 25, 1931. She was 65 years old. She is buried with Lawrence at Evergreens.

Amelia left an estate valued at $6,500, basically the value of the property at 941 Newkirk Avenue. According to her Last Will and Testament, which she amended on December 17, 1924, she left $1 to her daughter Amelia (Mettie) Kazalsky, $1 to her daughter Bertha (Birdie) Hunter, and one-half each of the remainder of the estate to her sons William and Albert.

On October 15, 1931, four months after his mother died, William married his second wife, Lillian Foell, who was already living with him at the family home. Around this time, William sold the house at 941 Newkirk Avenue to Raymond and Anna Nicholson for $4,750. In 1933, Albert sued William for his half of the inheritance. I don't know why he had to do that, or how it turned out.





Back to the Top!




---

---
LEIER/NOWASKY FAMILY WEBPAGE