St. John's Lutheran Church
St. Johnís Lutheran Church was organized in 1866. Its first pastor was a Dutch Reformed minister named Reidenbach. The congregation met here and there in neighborhood churches until they could raise money to buy three lots on Prospect Avenue, which at the time was called Middle Street. In 1868, they built a small wood framed church. By 1898, they needed a larger church, and raised more money to build it. The cornerstone was laid in 1898, and it was consecrated in 1899. The church officially changed its name to the Evangelical Lutheran St. Johnís Congregation of Brooklyn.

In the inset in the upper left of the postcard image below, you can see the original wood framed building that functioned as a church until the new one was built in 1899. Longinus Leier married Emilie Nowasky there in 1883. The new church built in 1899 is in the center.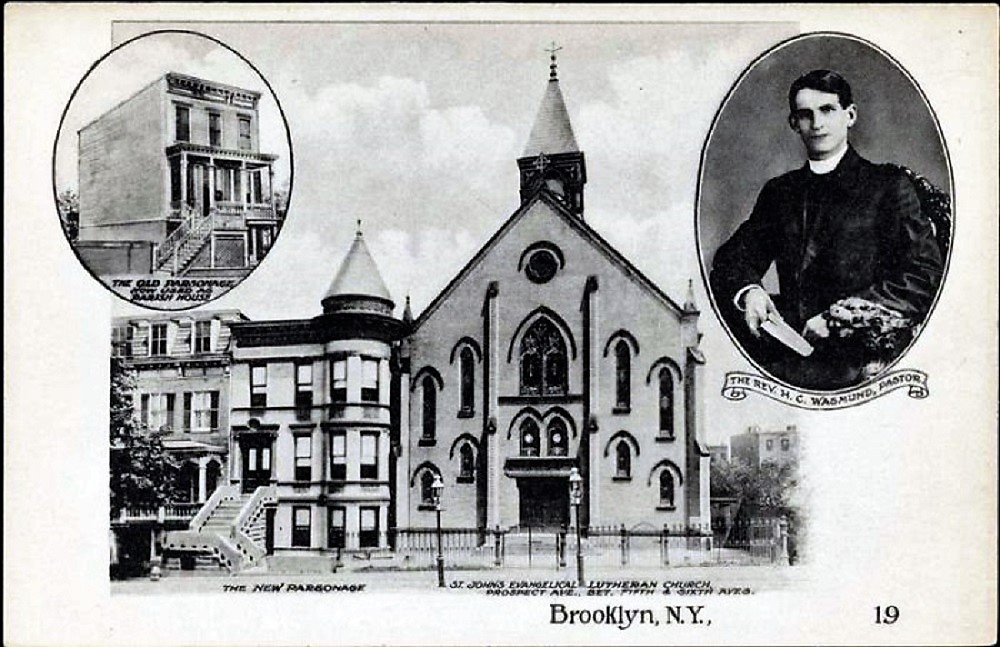 The image below is from the Brooklyn Citizen Almanac of 1897. Pastor J. H. Sommer is the pastor (J. Helmuth Sommer) who presided over the marriage of Longinus and Emilie.







Like many churches, however, they had some internal problems. German Americans in the late 1800s were of two minds when it came to assimilating into American culture. Many wanted to leave a lot of their German cultural habits behind, and become Americans. They wanted church services to be in English. Others wanted to hold onto their language, and conduct services in German. In 1884, the church wanted to be bi-lingual, and this split the congregation. The German speakers founded a new congregation nearby called the German Evangelical Emanuel Lutheran Church, which had its church on 7th Street between 6th and 7th Ave.








---

---
LEIER/NOWASKY FAMILY HISTORY