Home
---
Leier Family Chart
----------
Nowasky Family Chart
---
Leier Family History
----------
Nowasky Family History
---
Children of Charles
& Louise Nowasky
---
Children of Lawrence
& Amelia Leier
----------
Louisa & Ciro
----------
Louisa's Letters
---
Cemeteries
---
Causes of Death
---
Photos
---
Documents
---
Brooklyn Map
---
Email Me
Map of Poland
In October of 1836, in Cekzin, Germany, a girl named Louise Pubanz was born. Her parents were Louis and Louise Pubanz. Cekzin was actually a small village in West Prussia, which at the time was part of the vast German Empire. Today, that same village is in Poland, and is known by the Polish name of Cekcyn. According to Tom Peters, the Pubanz and Nowasky families were almost certainly Ethnic Germans living in that area. He points out that the birth records he found for Louise's children came from a German church in Cekzin, and when they got to America, they attended a German church in Brooklyn.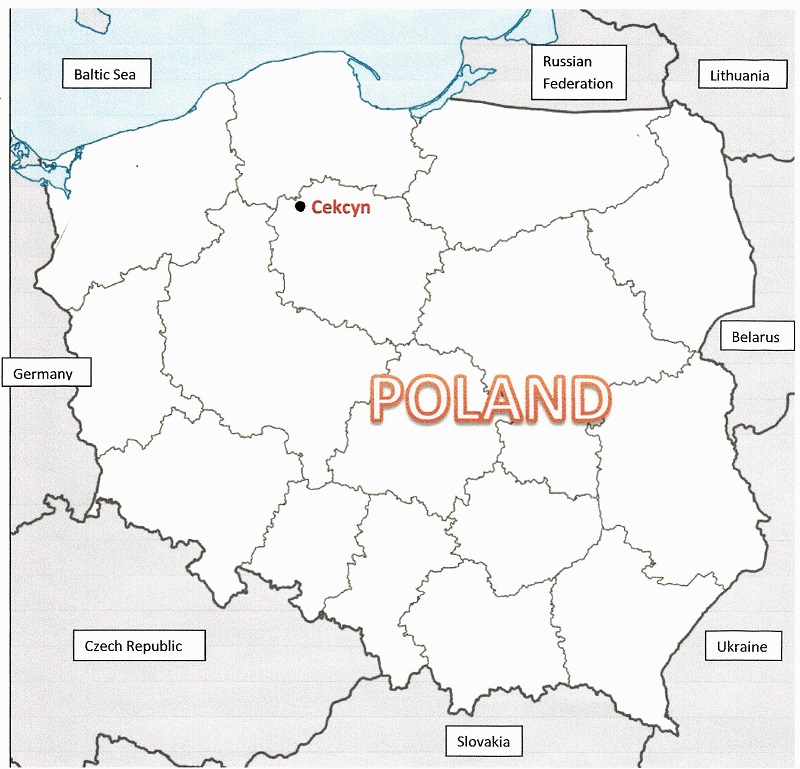 In 1879, when he was 43 years of age, Carl Nowasky Sr. emigrated to America. He left behind his wife Louise and the remaining children, Emilie (14), Bertha (11) and Carl, Jr. (5). In 1882, Louise and the children made the voyage to join Carl in Brooklyn, New York. Even though they all travelled together on the same ship, the travel documents show different places of residence for them. Louis and young Charles Jr. were from Gross Bislaw, while Amelia and Bertha were from Iwitz, Westpreussen. Westpreussen was West Prussia, a part of the German Empire located in Poland in 1882. Iwitz is the German spelling for for the Polish Iwiec. The same for Gross Bislaw; Byslaw in Polish. Iwiec is 3 miles southeast of Cekcyn. Byslaw is 5 miles south.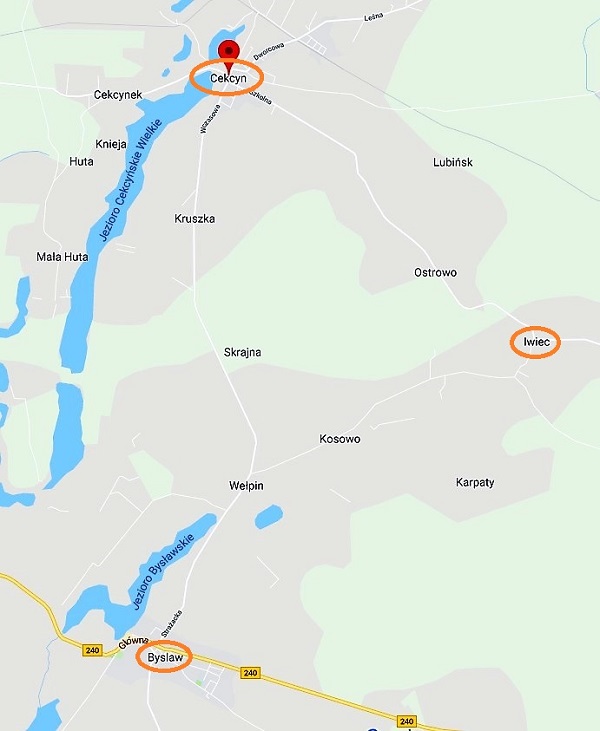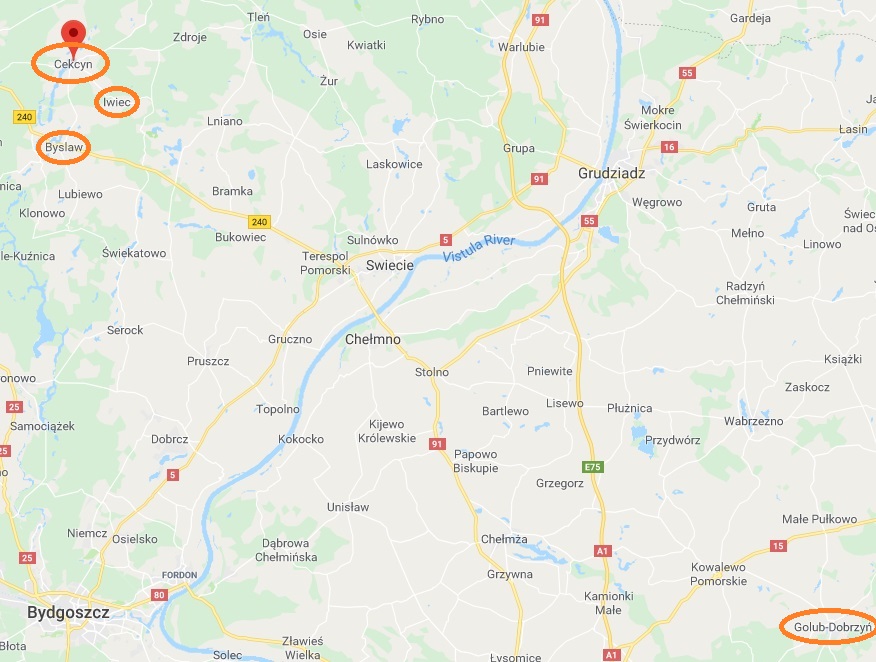 Charles Nowasky Sr. was listed as a resident of Gollub Westpreussen on his immigration documents when he emigrated to America in 1879. Gollub is the German spelling of the Polish town of Golub. Today, Golub-Dobrzyn is a town in central Poland, located on both sides of the Drweca River. It is 80 miles southeast of Cekcyn. It actually consists of two previously separate towns: Golub located north of the Drweca and Dobrzyn located south of the Drweca. The two towns were united May 5, 1951. The village Golub (German: Gollub), populated by Poles, was first mentioned in a document from 1258. Golub was severely damaged during wars in 1414 and 1422; the latter war called the Gollub War. The town became part of Poland according to the Second Peace of Thorn (1466). in 1817 it was included in West Prussia. In 1871 it was included in Imperial Germany and was subject to control by Germans. Charles left Golub in 1879 and made his way to America. In January 1920, Golub again became part of Poland. In August 1920, however, the Russian Red Army attacked the city. In 1939 it was annexed by Nazi Germany and most of the dwellers were forced to swear allegiance to Germany. After World War II ended, the towns were restored to Poland, and united in 1951.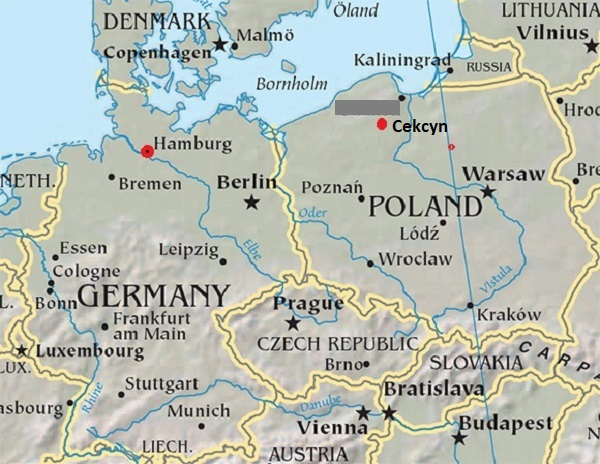 Cekcyn is nearly 700 miles from Hamburg. Somehow, both Charles Sr., and then Louisa and the children, made the journey from Cekcyn to Hamburg to board their respective ships and sailed to America. The trip from Hamburg to New York took three weeks. We have no way of knowing how long it took for them to travel the 700 miles from Cekcyn to Hamburg.







---

---
LEIER/NOWASKY FAMILY HISTORY