The Greenwood Cemetery Grave of
Thomas and Hannah Halbert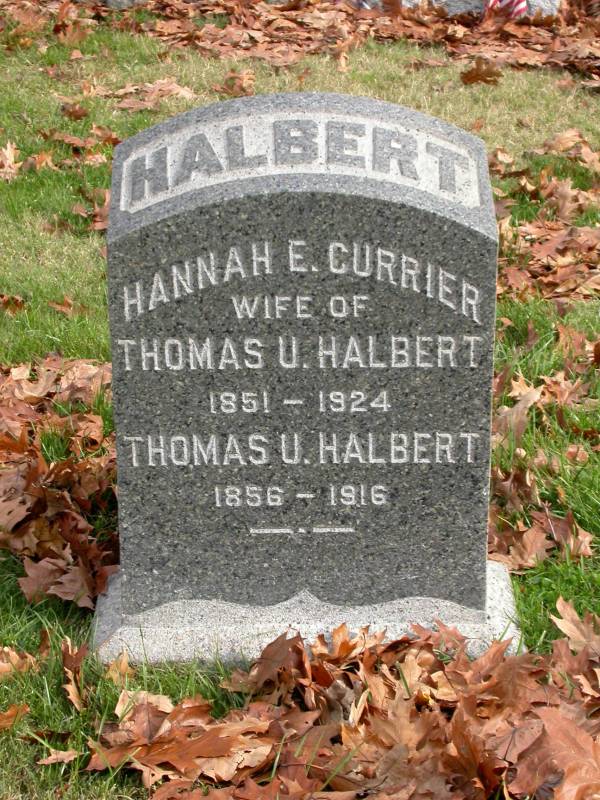 Section 71, Lot 851



Although the headstone says he was born in 1856, other sources say that Thomas Urban Halbert was born November 21, 1845, in Hudson Heights, Vaudreuil-Soulanges, Quebec, Canada. Hannah Elizabeth Currier was born September 14, 1851 in New York. She and Thomas were the parents of Susan Elizabeth Halbert (1889-1963). Susan's first husband was William Leier (1886-1957) and the mother of William Thomas Leier (1913-1988) and Dorothy Leier Bosch (1915-1976). Thomas died May 10, 1916 in Dunton, New York at the age of 70 (not 60 as stated in his obituary). Hannah died February 21, 1924, age 72.





This is the Currier Family Plot at Greenwood Cemetery. The headstone for Thomas and Hannah (Currier) Halbert is center rear. The grave of Nathaniel Currier, of Currier and Ives fame, is buried elsewhere in the cemetery (Section 108, Lot 8325).





Photos taken November 2006









---

---
LEIER/NOWASKY FAMILY HISTORY