Laurence Burton Hunter's Obituary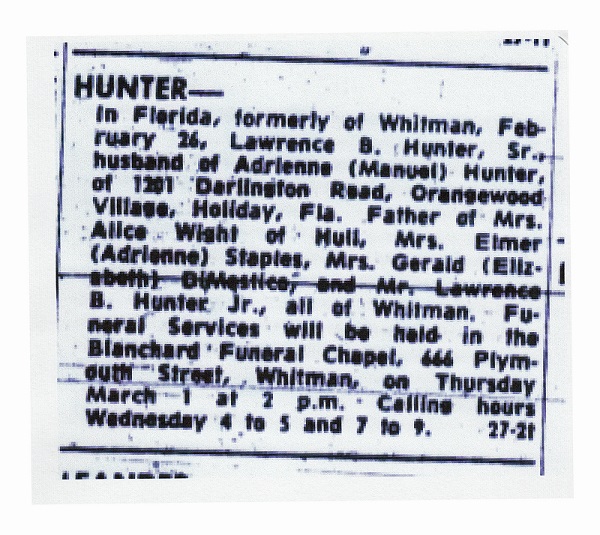 From the February 27, 1973 issue of "The Quincy Patriot Ledger" Massachusetts newspaper.
Courtesy Paul Walker, Reference Department of the Tufts Library in Weymouth, MA.



Laurence Burton Hunter was born in Quincy, Massachusetts on March 23, 1896. He was the first husband of Bertha (Birdie) Leier. Birdie and Laurence had one child, Ruth Hunter, born August 9, 1919 in Brooklyn, New York. After moving to Westerly, Rhode Island in 1925, the couple divorced. Laurence moved back to Massachusetts and married Adrienne Manuel. They lived in Weymouth and Whitman Massachusetts and raised their own family together before moving to Florida. Laurence died in Tarpon Springs, Florida on February 25, 1973. Adrienne died in February of 1982. They are buried together at Fairmount Cemetery back in Weymouth.
















---
---

---
LEIER/NOWASKY FAMILY HISTORY