Charles Nowaky Jr.'s Obituary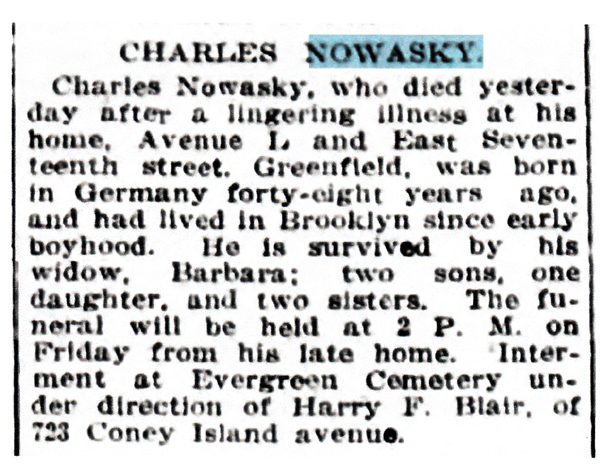 From the Wednesday, March 27, 1918 issue of "The Daily Standard Union" Brooklyn New York newspaper.



Charles (1870-1918), the son of Charles Nowasky Sr. (1831-1904) and Louise Krzigan (1836-1903), was the husband of Barbara Kellner (1876-1956). He was only 48 years old when he died from Bronchial pneumonia and the year-long chronic effects of arterio sclerosis (hardening of the arteries). This left Barabara a relatively young (41) widow with three children, Charles (20), Frederick (17) and Marie (13). His sisters were Amelia Nowasky Leier (1865-1931) and Bertha Nowasky Kuntze (1867-1923).

While the age of 48 years agrees with that on his death certificate, he should really be only 41, according to his date of birth, February 1877, that appears on the 1900 Federal Census.


---
---

---
LEIER/NOWASKY FAMILY HISTORY