Charles Nowasky Jr's Certificate of Death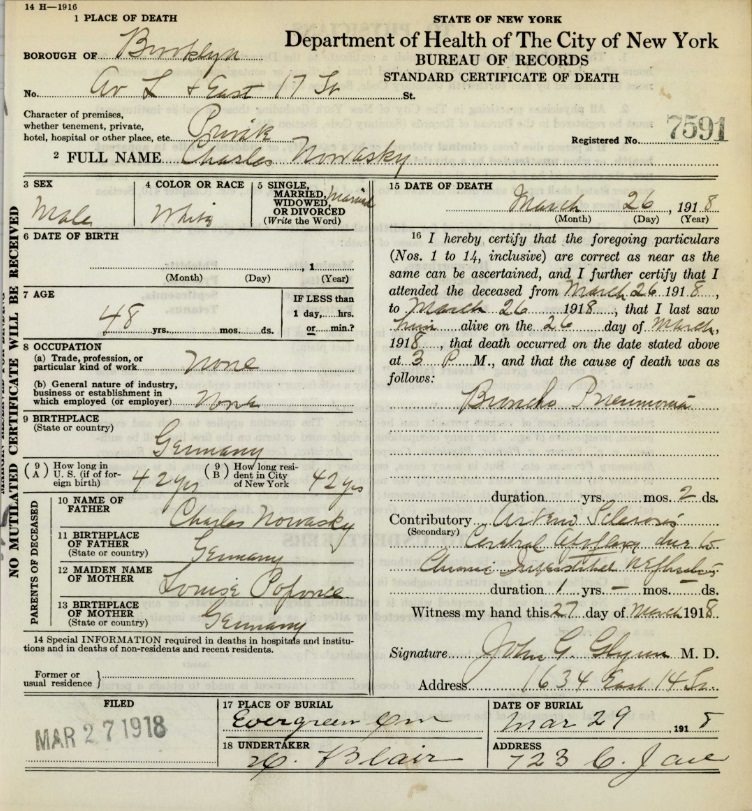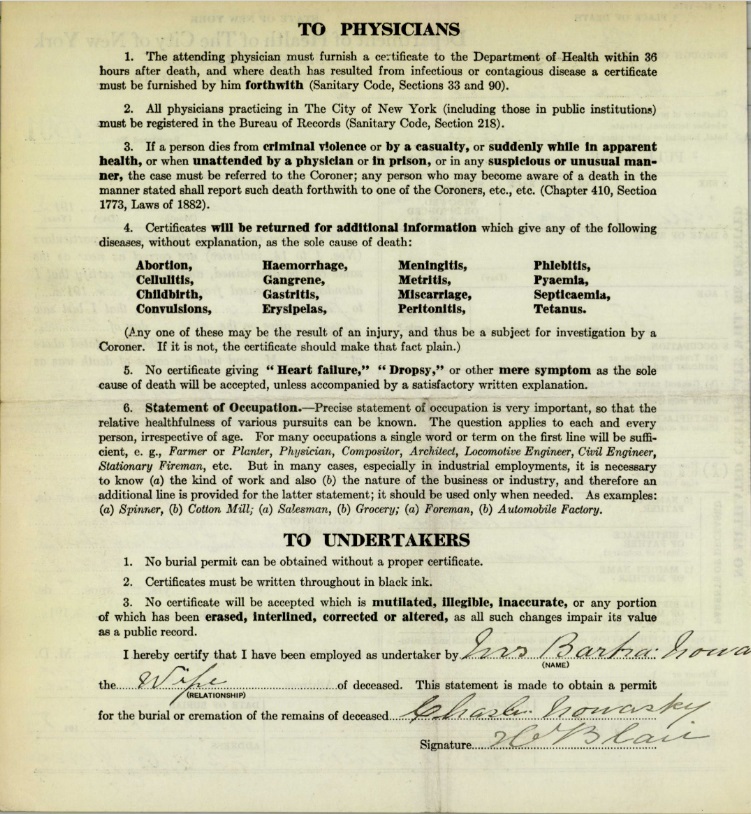 ---

Name: Charles Nowasky

Date of death: March 26, 1918

Age: 48 years

Usual residence: Ave L & East 17 St, Brooklyn, NY

Length of residence in New York City: 42 years

Marital status: Married

Date of birth: Not entered

Occupation: None

Birthplace: Germany

Father's name: Charles Nowasky; Germany

Mother's name: Louise Poponce(?); Germany

Place of death: Ave L & East 17 St

Cause of death: Bronchial Pnuemonia; contributing factors: arterialsclerosis, cerebral aploplexy, and chronic interstitial nephritis

Time from attack until death: 1 year

Cemetery: Evergreens

Date of burial: March 29, 1918

Undertaker: Harry Blair, 723 Coney Island Ave

Note added April 6, 2017. If Charles was 48 when he died in 1918, then he was born around 1870. According to the 1900 Federal Census, he was born in February of 1877. That means he was really 41 when he died. Although there is no informant listed on his death certificate, his wife Barbara is credited on the second page.

According to his marriage certificate, he was 22 when he married in June of 1896. That would infer that his year of birth was 1874. Since this uses him as the source of information, I am inclined to belive that he was born in February of 1874 and was 44 years old when he died.


---

To go directly to his "Cause of Death" page, click here.


---
---

---
LEIER/NOWASKY FAMILY HISTORY