Ada (Edith) Kuntze's Certificate and Record of Death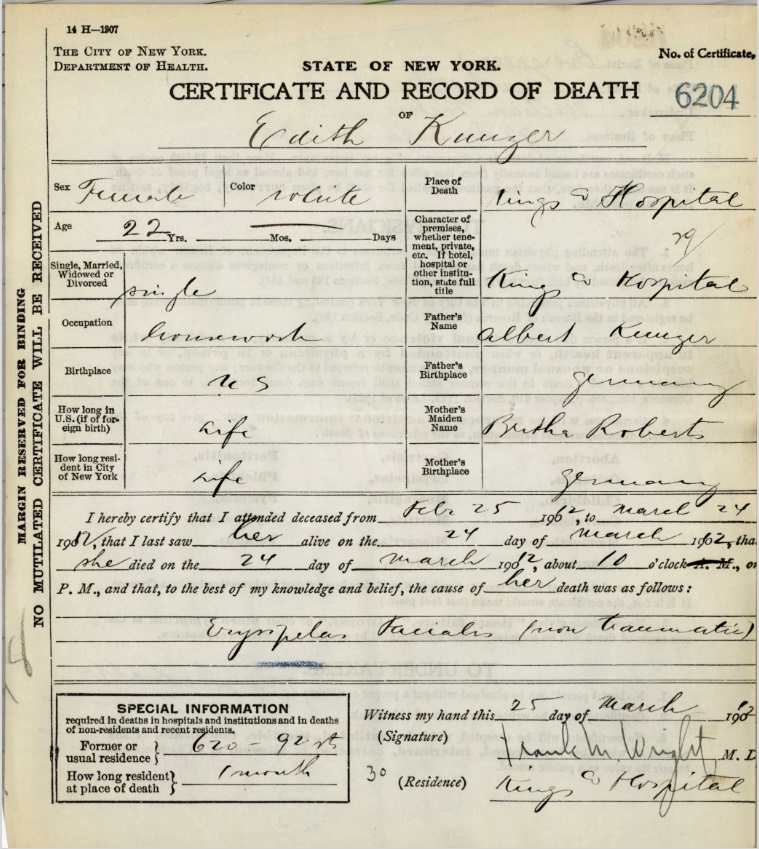 ---

Name: Edith Kunzer

Date of death: March 24, 1912

Age: 22 years

Usual residence: 620 92 St., Brooklyn, NY

Length of residence at this residence: 1 month

Length of residence in New York City: Life

Marital status: Single

Occupation: Housework

Birthplace: U.S.

Father's name: Albert Kunzer; Germany

Mother's name: Bertha Roberts; Germany

Place of death: Kings County Hospital

Cause of death: Erysipelas Fasclitis

Time from attack until death: Feb. 25, 1912 to March 24, 1912

Cemetery: Evergreens

Date of burial: March 27, 1912

Undertaker: William Hecker, 1092 De Kalb Ave, Brooklyn


---

Although born as Ada Kuntze, her death certificate identifies her as Edith.

I have no idea why her mother's name is Bertha Roberts. Ada/Edith's father, Albert Kuntze, died in 1897. Bertha may have remarried someone named Roberts. By the time Bertha dies in 1923, her last name is Wilson.

Erysipelas Fasclitis is a flesh-eating skin infection. To go directly to Ada's "Cause of Death" page, click here.


---
---

---
LEIER/NOWASKY FAMILY HISTORY