William Thomas Leier
1960-1988
A photo of 47-year-old Bill attending an American Legion Convention in Miami in 1960.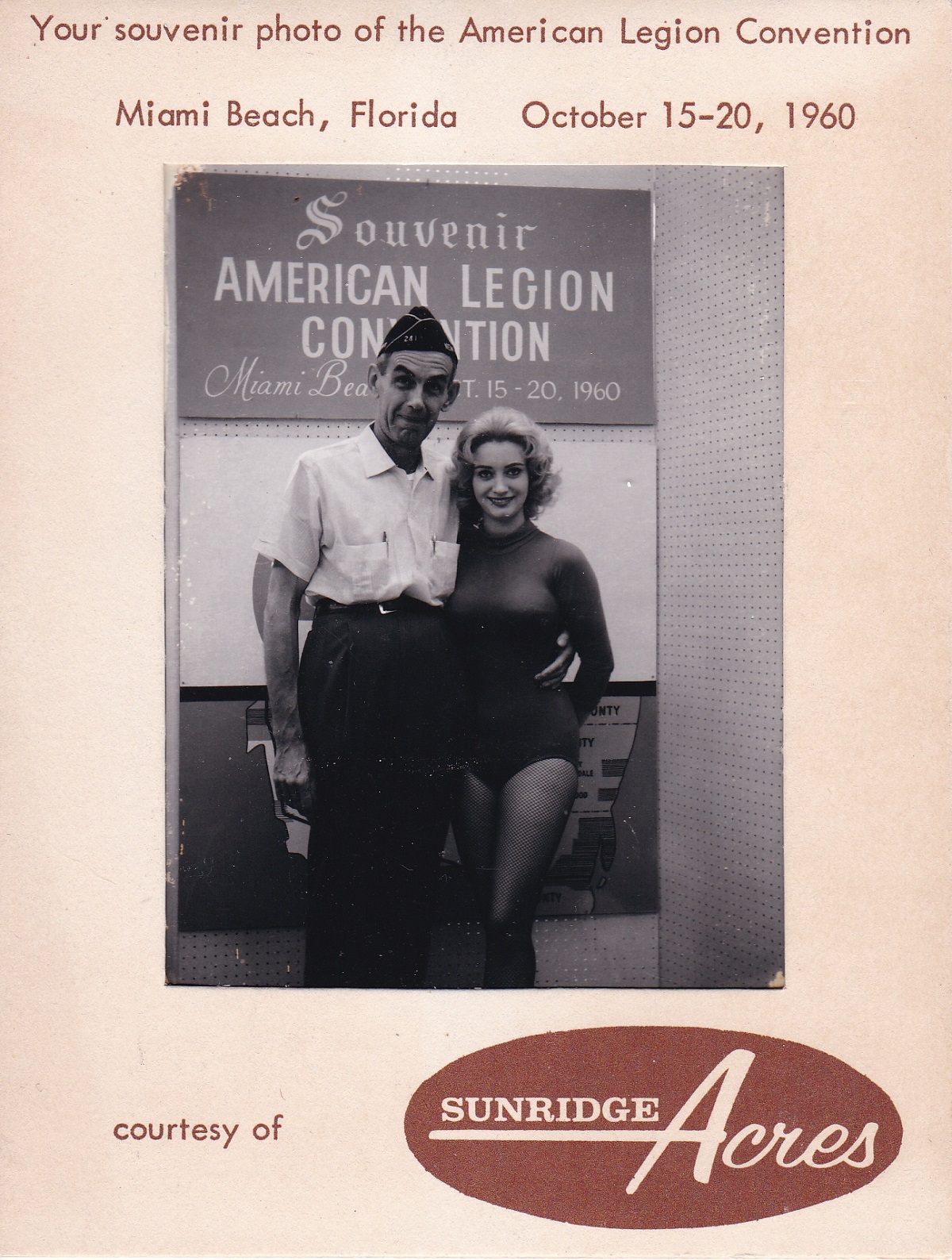 All of the photos in this series are from Jeannie Madden, the daughter of Audrey Chamberlin. Audrey was Bill's friend and the manager of Herlong Trailer Park, where she and Bill both lived in Herlong, California. Over time, Bill came to be Audrey's friend and she helped him as much as she was able.

Jeannie met Bill only once in person, but she knew him well because he was the topic of many of Audrey's letters and phone conversations with Jeannie. Bill had "a hump" on his back and was always very thin. In one of the conversations, Audrey said Bill's car wouldn't work anymore and he asked if she would drop him off at his friend's home in Doyle, a town about 10 miles south of Herlong, then pick him up when she came back through. Audrey had to go to Reno twice a week with another job she had and said she could do that, since Doyle was on the way. While Jeannie doesn't remember the friend's name, she does remember Audrey telling her that the friend's wife was named Audrey, the same as her own, which was unusual. That Audrey died later, but Bill still visited the friend until he also died, after being on oxygen for a long time.

Audrey often made rounds through the trailer park and said she would see "Leier" outside, working on his car. She hadn't seen him for several days but his car was still there, so she knocked on his door. Bill was inside, he called out that he was in bed because he couldn't walk – he had a bad sore on his leg and couldn't bear weight on it. Audrey got her husband, Donald, and together they got him up to see the Base doctor at Herlong Military Depot. Audrey often drove Bill to the Base. She had to go there every day to pick up her mail and he would ride along. It was the same later with her trips to Susanville and Reno. He was good company and it helped him out.

Another time Bill had walked from his trailer to Audrey's asking if she would take him to see the doctor, his car again not working. He took his shoes and socks off to show her and she said that his feet looked "just awful" – his toenails had "turned black". Around this time, Bill was first admitted to the VA hospital in Reno, Nevada. Over time, he was unable to take care of himself so Audrey helped him again. By this time, Bill was a family friend. Bill felt he should be in a nursing home so Audrey drove him to the nursing home in Susanville.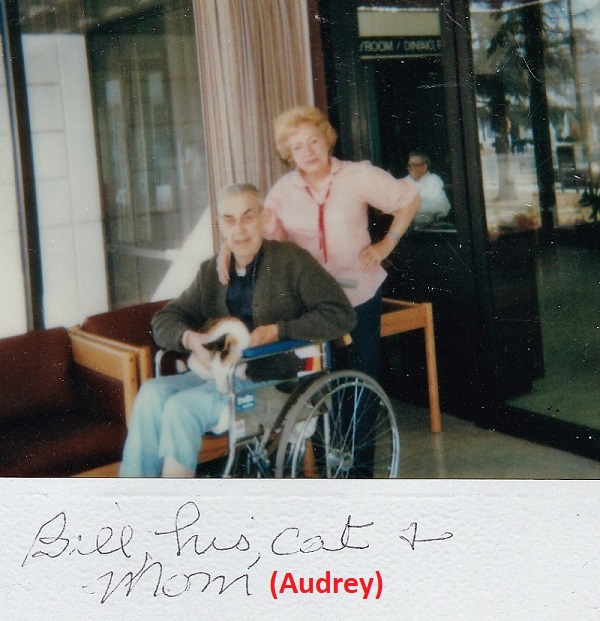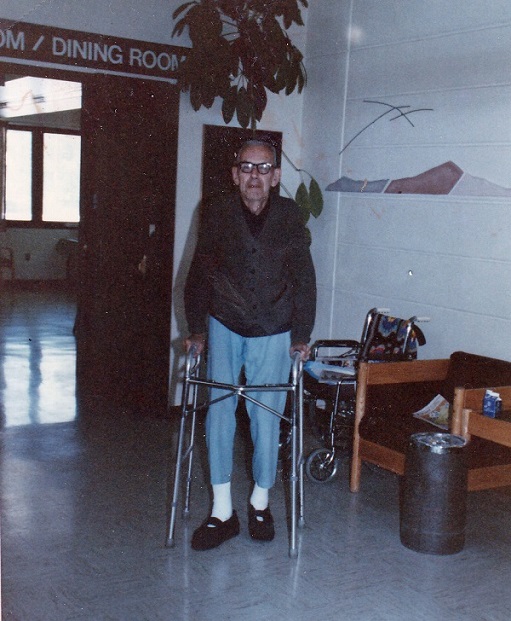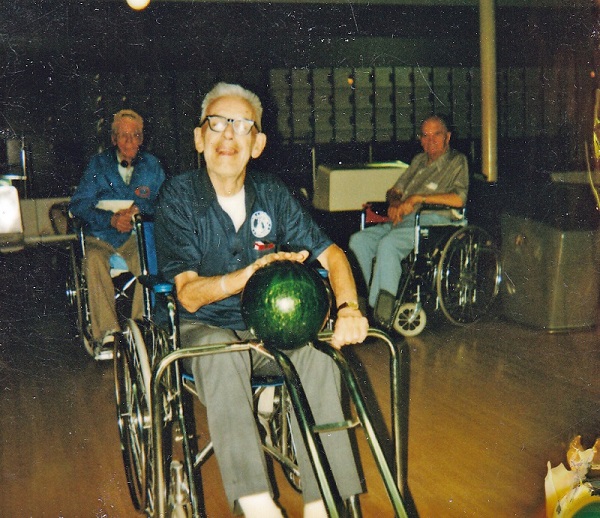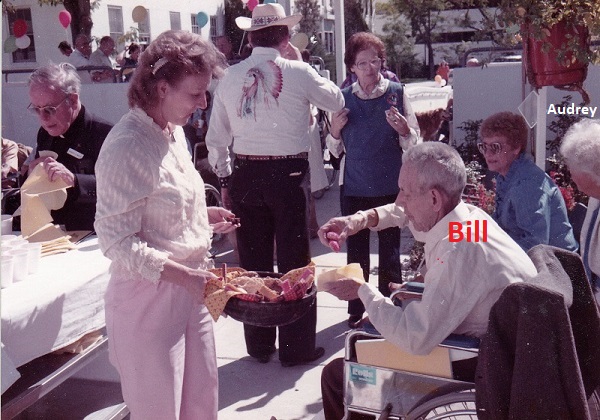 Audrey had standing appointments with the hair-dresser in Susanville and would stop to visit Bill at times. Sometime during all this, Audrey wrote to Jeannie that Bill had fallen off his wheelchair in the hospital bathroom and broke a hip. Another time she found him in bed covered with his own excrement and both his hands very swollen. She "raised cain" with the staff and they called 911 and he was taken to the emergency room in Reno. Audrey followed behind to make sure he got to the right place. The doctor there told her that she had probably saved his life. She was really angry about his poor care at the nursing home.

Jeannie remembered another incident when Bill's insurance wouldn't pay for his hospital medical bills, so Audrey's husband Donald called and got it all straightened out for him and the bill eventually got paid in full. According to Jeannie, her mother was a strong willed, hard-working person and believed in "right and wrong", that "those people will get it all back, one day". One of her sayings was "reaping and sowing".

When Bill died at the nursing home on August 23, 1988, exactly one week after his 75th birthday, they called to let Audrey know about it. She was surprised that they did, not knowing that Bill had put her name down as "person to be notified". When she got there, she was given Bill's belongings that included a card-holder with his driver's license and various other "cards". There were also the photos that you see here.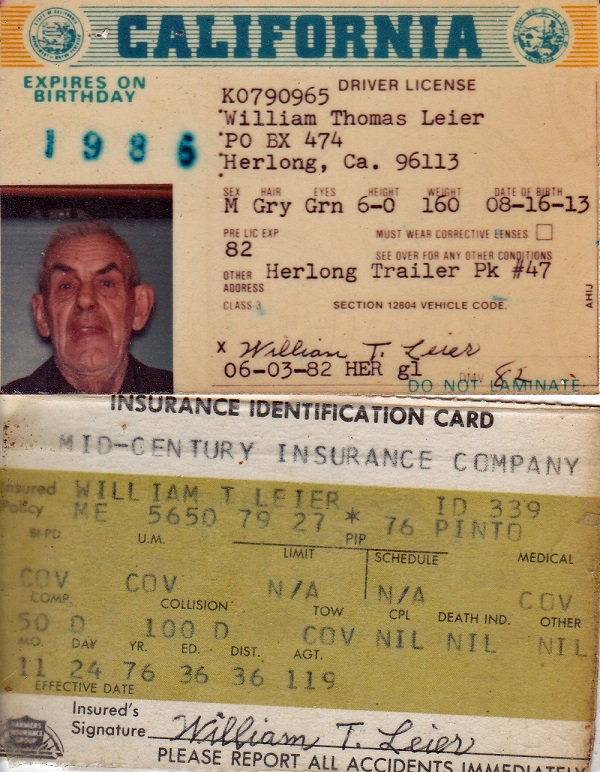 Audrey told Jeannie that the nursing home told her they had "lost" his watch, his glasses and any money he had. She was angry at them for not watching out for him better, to let that happen.

As manager of the trailer park, it was Audrey's responsibility to clean out Bill's trailer. According to Jeannie, Audrey was shocked to see how he had lived. She told Jeannie he never smelled bad or anything, so it was totally unexpected. There was just a "path" leading into the rooms, piled up on both sides with newspapers and such that she didn't even know there was a dresser under them until she and Donald started throwing them out. The sheets on the bed were very soiled and so thin that there were big tears in them. The kitchen was better but when they looked in the cupboards, there were boxes of cereal so old (more than 10 years?) that she didn't even give it to the strays in the trailer park. She was glad that he liked it in the VA and seemed happy to be there.

On one of her visits to Herlong to visit her mother, Jeannie drove Audrey into Susanville for her usual hair appointment and asked if Bill's cemetery was anywhere near. She said "yes, but if we're going there, I want to get some flowers for his grave first because nobody else would". The cemetery was Diamond Crest Cemetery in Johnstonville, just a few miles outside Susanville. Jeannie took a picture of Audrey with the flowers at his gravesite.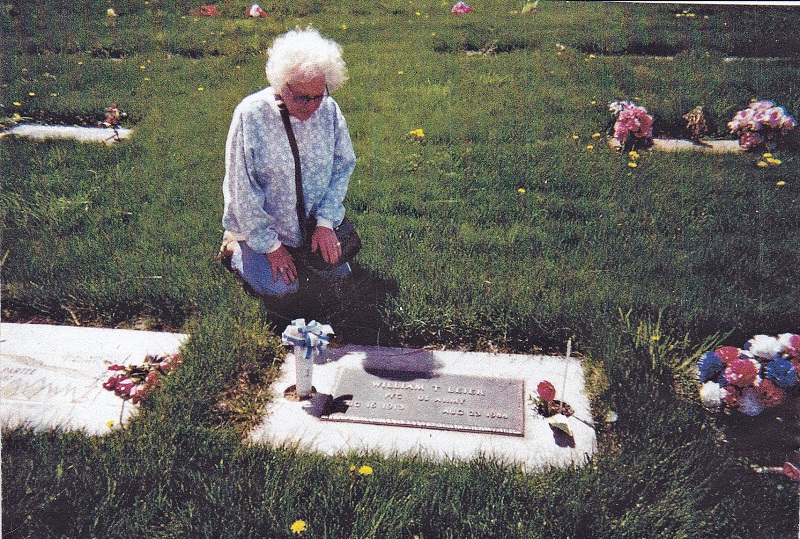 Diamond Crest is a military cemetery and Jeannie says it was "different" in that adults were buried on one side of the "drive-thru road" and only children on the other side. There were all sorts of toys, dolls, etc., on the kids' graves and it was a sad thing to see.

Audrey died in 2013 at Penn Hall Nursing Home in Chambersburg, PA. When her stepfather Donald died in 2011, Jeannie flew out to get her mother and bring her back to Pennsylvania to care for her until her passing.

In February 2019, Jeannie contacted me. She and her husband were getting ready to move and was going through some boxes of Audrey's old papers, when she came across a note about "strangers knocking" at her door one day. The couple who had knocked said they had come across Audrey's name as a friend of Bill's. They added that their visit was for "genealogy" information, saying that Bill was a cousin. By this time, Bill had already passed away and Audrey didn't believe the couple's story, that they were just looking up family genealogy. She said nobody would drive the whole way out here, just to ask about "family". Bill never mentioned anything while he was living there for 20 years, so why now? Jeannie said her mother was naturally suspicious of strangers, and was very wary of giving out any information other than of where Bill was buried. She even gave them directions to it, staying behind the door. She told Jeanne on the phone that "the people seemed happy with that" adding that "being happy about it" could have been a "put on", too. Jeannie explained that was just her mother's nature.

When I read Jeannie's story about the couple who "came knocking", I was pretty sure who she was talking about. In 2006, I became acquainted with a distant cousin named Jo Ann Moffat. She and her husband lived in Redding, California, located about 150 miles west of Herlong. Jo Ann is related to Bill's mother, Susan Halbert Leier. At the time, neither one of us knew very much about Bill, but eventually we discovered that he had been employed at Sierra Army Depot and that he lived at the Herlong Trailer Park. Obviously, all this information came to us long after Bill had died. Jo Ann and her husband drove the 150 miles to Herlong to see if there was anyone there who could offer any more information about Bill. Thanks to Jo Ann's brave journey, we now had a connection to Bill. Besides the location of Bill's grave, Audrey also gave Jo Ann her phone number, which she sent to me. I called Audrey and she gave me the first real information we had about Bill at that time. That was the one and only time I spoke to her. Now, years later, we have all this other information and photos thanks to Jeannie.




Another sad footnote on Bill's life is exemplified by the following notice that appeared in the local newspaper in 1983.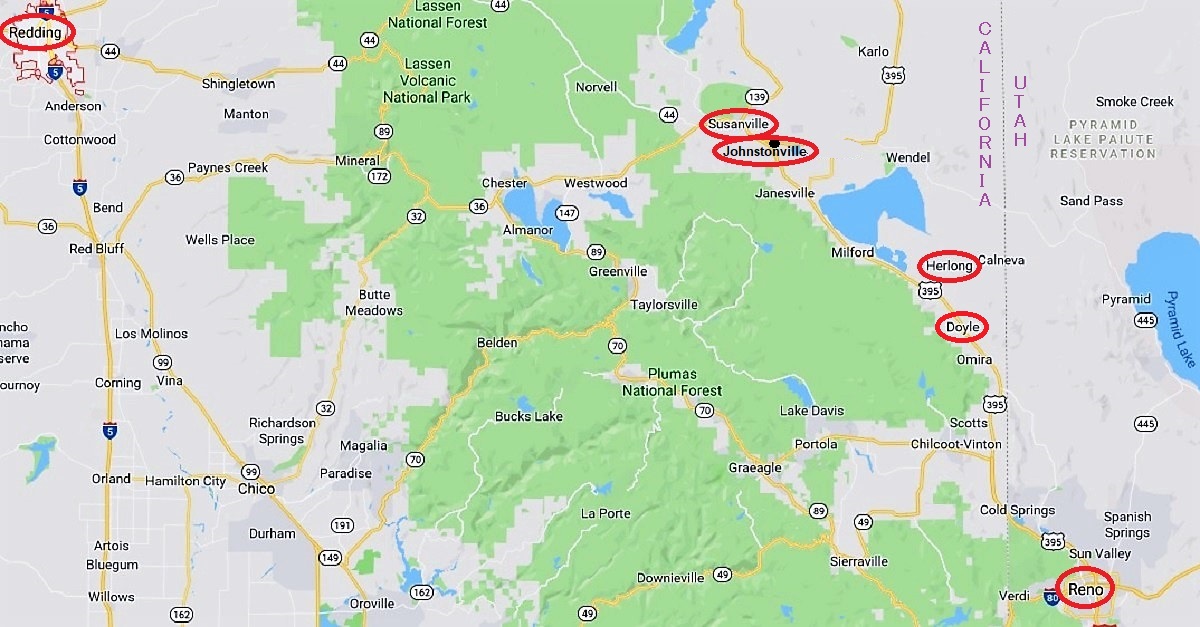 Back to the Top!
---

---
LEIER/NOWASKY FAMILY HISTORY